University of The Free State Rag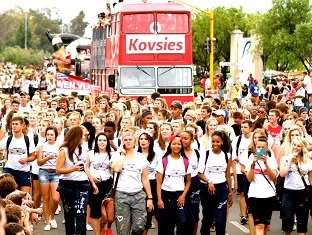 RAG is an acronym for Receive and Give.
[crp]
University of The Free State Rag, The University of the Free State's RAG project was established in 1942.  As the winds of war swept over the globe, a few enterprising students vibrantly decorated a vehicle and drove through the streets of Bloemfontein in an effort to support their fund-raising activities for charity. Their creative and good-hearted efforts were well received and they managed to raise £53, a substantial sum of money at the time. This event sparked further student fund-raising efforts that eventually gave birth to Kovsie Rag.
The 72nd anniversary of the annual Kovsie RAG procession was celebrated in 2014, with the student body committing its energy, creativity, and resources to fund-raising for numerous worthy causes. For most people Kovsie Rag is synonymous with the much anticipated, fun-filled parade that takes place in Bloemfontein during January every year.
Kovsie Rag immediately conjures up images of fun and spectacular floats, accompanied by music, laughter and sunburnt students cradling money tins.  However, the annual Rag Parade, and the three weeks' frenzied activity that precedes it, represents only a small segment of the broad range of fund-raising activities that Kovsie Rag engages in throughout the year. In fact, as an active fund-raising organisation, driven by the energy and enthusiasm of young people, the scope of our activities is vast and continuous.
The character of RAG CS has developed over recent years to reflect the multicultural diversity of our community that RAG CS aims to serve.  In this regard, continuous effort and emphasis are placed on efforts to expand fund-raising and community-service initiatives to all sectors of the community and to ensure that the allocation of RAG CS funds reflect the population and economic demographics of the Free State and Northern Cape communities.