University of The Free State (UFS) Business School Bloemfontein
Welcome to the Business School
University of The Free State (UFS) Business School Bloemfontein, "All of us have to make fundamental personal choices to acquire the knowledge, skills, and attributes that will help us move with ease and understanding in a fast-changing world with technology as its base. Some of us won't be content to merely go with the flow of the future; we'll want to influence its direction."
[crp]

Prof Helena van Zyl, Director
The Business School was founded to:
develop and deliver successful programmes;
teach and share our knowledge and convert learning into practice;
coach in an on-campus and on-line environment;
empower individuals and organisations;
maximise potential; and achieve exceptional results.
Also operating under the banner of the school, is The Centre for Business Dynamics, established to offer customised non-curricular training in order to assist companies and individuals in bridging the gap between their existing skills and competencies, and those required to ensure their future performance and competitiveness.
We create opportunities for the future.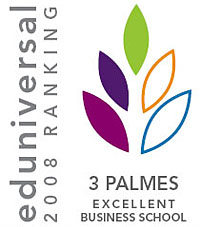 Fully accredited by the Council for Higher Education (CHE)
Memberships:
AACSB (The Association to Advance Collegiate Schools of Business)
AABS (Association of African Business Schools)
AMBA (Association of MBAs)
CEEMAN (Central and East European Management Development Association)
SABSA (South African Association for Business Schools)
The Business School has received 3 Palmes from Eduniversal voting and belongs in the 3rd league of the 1000 Best Business Schools worldwide.